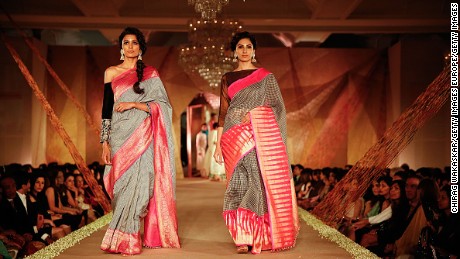 Mumbai (CNN)Down in the modest basement of one of Mumbai's most exclusive clothing stores, there's a buzz.
Sprawled over a large square table, the latest saris from Manish Malhotra's new "Regal Threads" line have arrived from his factory. His team checks and irons the delicate fabrics, before delivering them to the shop floor.
"It's all about breaking rules," says the revered Indian designer.
Known for styling the leading ladies of Bollywood, such as Priyanka Chopra and Sonam Kapoor, Malhotra has made a career out of modernizing traditional Indian dress: pairing saris with smart shirts, and modifying the garment's silhouette to be more fitted.
"I find that saris command a lot more respect than any other form of office wear, and actually make a power statement the Indian way," she says.
Malhotra, of course, is a man who understands the power of social media onfashion.
The 50-year-olddesigner has 714,000 followers on Instagram, and believes the platform is helping to fuel the renaissance of traditional craftsmanship in the sari market.
"I respect social media for that … there's a lot of awareness celebrating art and crafts, and culture, and tradition," he says.
A picture he posted this month of Bollywood superstar Shilpa Shetty wearing a sari from his Regal Threads collection, with the hashtags #handloom #banaras hertiage #culture, has over 17,000 likes.
#stunning @officialshilpashetty #shilpashetty in #REGAL THREAD'S #collection #handloom #BANARAS #2016 #hertiage #culture #glamarous
"Various designers are doing interesting things with handloom and textiles and I think, for me at Manish Malhotra as a label, as a designer, as a person, its very exciting for me to do a lot of textile and most importantly is to get the sari back [in fashion]."
With Regal Threads, Malhotra is doing just that.
Read more: http://www.cnn.com/2016/02/23/asia/sari-comback/index.html